Kevin Pecha, AZO Inc. food sales manager, has been announced as one of two new directors-at-large set to serve the SNAC International's Associate Executive Council (AEC).
Pecha, Mike Cantore of Carolina Ingredients and some returning directors-at-large (as well as AEC officers) were announced by SNAC International on March 24. A new slate of officers and directors-at-large were also announced to serve the Executive Committee on March 23.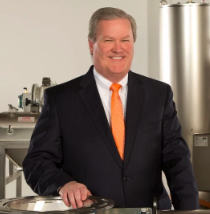 "AZO has known SNAC International for a long time, and we've been attending their shows for a long time," Pecha said. "It's wonderful to be chosen for a position to serve such a well-known organization in the industry."
SNAC President and CEO Elizabeth Avery was quoted in a press release form SNAC International stating that this incoming class of officers and directors represents "a diverse cross-section of our category." According to Avery, this team is "well-positioned to ensure our member companies receive maximum value from their membership."
Pecha brings 25 years of experience working alongside the snack food industry through AZO and completes his portfolio as a project manager previous to his time at the company.
"This opportunity brings recognition to AZO Inc. and will possibly generate some to investigate more about AZO," Pecha said.
In the time Pecha went from being primarily a snack consumer to becoming a food sales manager of an ingredient automation equipment manufacturing company, the snack market has noticeably expanded.
"There were a whole lot less snacks to be consumed at that time," Pecha said. "Now, you don't have four choices, you have 15."
With more options brings new challenges to a portion of snack manufacturers in the industry. New and sometimes unfamiliar ingredients can, at times, be introduced as a result of growing consumer trends. Trends such as popular diets, gluten-free options, allergen management practices and non-GMO vegan consumables have the propensity to introduce challenges for some snack manufacturers.
The snack food industry is an exciting industry because there's always new products being manufactured," Chuck Kerwin, general manager of AZO Inc., said. "We enjoy helping small companies become big companies by helping them increase their sales."
AZO strives to serve both the local community around it's Memphis hub and to ensure the quality of their clients' products throughout the U.S. and Canada.
"Kevin is great at helping people figure out how to scale-up manufacturing or production," Kerwin said. "It's great that the organization recognizes his contribution, and AZO is honored to participate. We're here to help people. That's part of our vision."
How AZO communicates that vision has shifted somewhat due to recent events. Trade shows like SNAXPO (described as "the most comprehensive event devoted to the international snack industry") were put on hold due to corporate travel restrictions, and other shows have been outright canceled over concerns related to the COVID-19 outbreak. Even through this uncertainty, snacks continue to play an important role for consumers.
"We all love snacks, and the SNAC food association is one of our favorite associations," Kerwin said. "When life is disrupted, it's always good to be able to have something that is nostalgic or reminds you of normalcy."