The AZO COMPONENTER® guide assists engineers and executives with understanding the benefits, features and options offered of the company's automated minor or micro batching systems.
When a factory automates the dosing and weighing of their minor and micro ingredients, they take an important step toward completely automated processes. Being able to record and track ingredients is just one way a system like an AZO COMPONENTER® can efficiently modernize a plant's operations.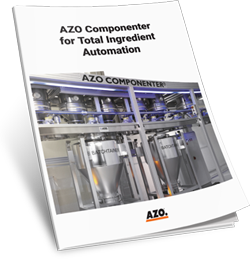 AZO has released a new e-guide detailing its line of unique COMPONENTER® systems. This guide is available to download for free on the AZO Inc. site and covers the various benefits a COMPONENTER® system can offer over manual unloading, weighing and dosing of minor and micro additives.
As these systems are focused so heavily on customization, AZO COMPONENTER® systems have not been explicitly introduced as a family of products until now.
"This is the first time we've brought the whole product line together rather than independent machines," AZO General Manager Chuck Kerwin said. "I think that's really quite interesting and different."
What makes AZO's COMPONENTER® different from other minor or micro batching systems is its flexible design. This flexibility accommodates functionality in a way that more simplistic systems can't achieve.
"The traveling bucket underneath other minor or micro batching systems tends to be just that — a bucket," Kerwin said. "A COMPONENTER® can use a variety of containers. There are also a lot of ways to take the mix, discharge it from the COMPONENTER® itself and move it to production. It can also feed a conveying line."
While most batching systems come in only a linear configuration, AZO offers COMPONENTER® systems in both linear and circular arrangements. The advantage of either arrangement is clarified in the AZO COMPONENTER® e-guide. Essentially, the choice between the two arrangements comes down to the available space and the number of ingredients to be batched.
"The circular COMPONENTER® has a relatively small footprint but is limited to eight ingredients," Kerwin said. "The linear COMPONENTER® could have an unlimited number of ingredients as long as you have floor space for it."
The COMPONENTER® Step model, still fresh off of its introduction at the IBIE baking show in September, is particularly effective for keeping ingredients separate and as a lower cost COMPONENTER® option.
"You're measuring smaller quantities to a greater degree of accuracy," Kerwin said. "Because each position has a scale and a variety of dosing arrangements, you then have a wide range of dosing accuracy options."
About AZO, Inc.
AZO, Inc. engineers, builds and installs components and complete systems for bulk material handling requirements. A wholly-owned subsidiary of AZO GmbH, the company supports U.S. customers with technical support from its Memphis location and rapid parts delivery. AZO equipment is used in companies ranging from small, family-owned businesses through the world's best known industrial and consumer products companies. AZO equipment is widely used in industries including food, snack, bakery, chemical, plastics, confectionery and pharmaceutical. More info about our company, as well as common questions related to the world of ingredient handling, can be answered on our company blog at bigbagunloading.com/blog.