With 15 football fields worth of exhibits, AZO is proud to attend this year's PACK EXPO in Las Vegas. Around 30,000 professionals from packaged goods industries and 2,000 suppliers of packaging solutions will convene at the 2019 PACK EXPO from Sept. 23 to 25. AZO will be stationed at Booth #7614.
In the 900,000 square feet of space, AZO plans to separate itself from the pack by bringing robust German equipment; a DA360 self-feeding Screener, a modular Bulk Bag Unloading Station and an AZO COMPONENTER® Step.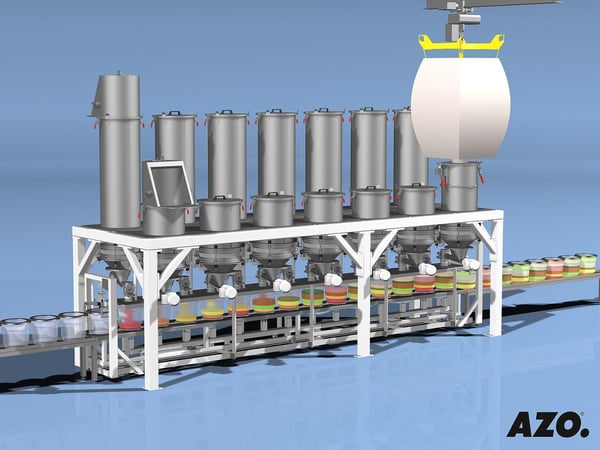 AZO COMPONENTER® Step
Chuck Kerwin, general manager of AZO Inc., said that PACK EXPO has a good reputation and presents a great opportunity to introduce AZO to a wider audience.
"It is one of the only shows we go to that attracts prospects from all four of our markets," Kerwin said. "It's a really unique show in that respect. It's more of a full range of what takes place in the factory — you've got packaging, processing and ingredient handling. It is the biggest show we attend and it continues to grow."
One topic Kerwin expects to affect this year's expo is the rise of single-use plastics and the idea of a circular economy. In this type of economy, making the most of resources and minimizing waste becomes the focus of an economic system. As this concept originated in Europe and is gaining traction in the U.S., Kerwin said more manufacturers need to be in a position where they can handle plastic substitutes.
"It's a real challenge because plastic is so functional and keeps products fresh, but it has affected the environment and something has to be done differently," Kerwin said. "A few years ago people moved away from foam to-go containers to more paper-based substitutes, so theoretically they're moving away from more plastic containers. The question becomes, 'Do you reduce the usage or do you swap it out and have something that is more biodegradable?'"
Kerwin said another issue likely to affect this year's show would be how tight the labor market is in the U.S. Kerwin said AZO's COMPONENTER® Step "fills a niche" that many may not be familiar with.
"It's flexible in that you can make it as long as you need to make it," he said. "The model that we have on-site is three stations, but it could be 10, it could be 12, it could be 15 stations. It has a relatively low cost per ingredient to automate, which makes it a little bit more customizable for our clients and also better for their budgets."
Having introduced the COMPONENTER® Step to U.S. markets at IBIE two weeks prior to PACK, the system will join other established technologies AZO has to offer including an AZO Bulk Bag Unloader.
Jeff Gaines, applications engineering manager at AZO Inc., said the last time AZO promoted its Big Bag Unloader to a PACK EXPO crowd, the general reaction was very positive.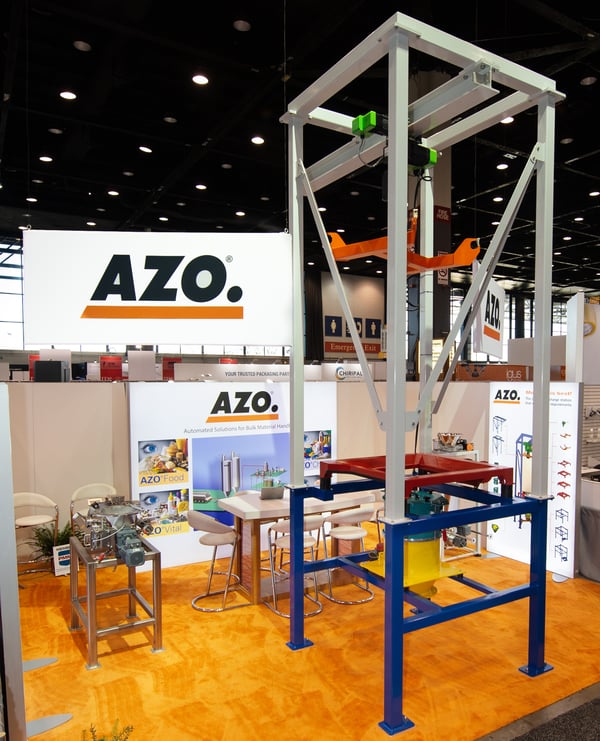 Modular Big Bag Unloader at PACK EXPO 2018
"It got people's attention and they stopped and looked at it," Gaines said. "Inevitably, they'll want to know how much they cost and then we can point them to our website where they can go online and configure a price for one of those on their own without necessarily having to contact AZO."
During PACK EXPO 2019, Gaines said he is looking forward to interacting with numerous existing customers and potential customers alike.
"Most of the time I do my work from behind a desk and I don't get to see the customers too often," Gaines said. "When I do have an opportunity to put a face to the name that's always satisfying … It's nice to hear that you provided a solution to their problems that they're able to use."
If you have any problems in ingredient automation, material flow or bulk bag unloader systems that require solutions, be sure to browse the AZO blog. Check out our configurator for bulk bag handling and bulk bag discharge requirements, or contact our sales team if you have any questions.