Information rich website provides resources for engineering and buying teams as well as business owners and managers
Published Release: https://onlineprnews.com/news/1118111-1538514197-azo-usa-publishes-new-website-with-information-on-optimizing-bulk-bag-unloading.html/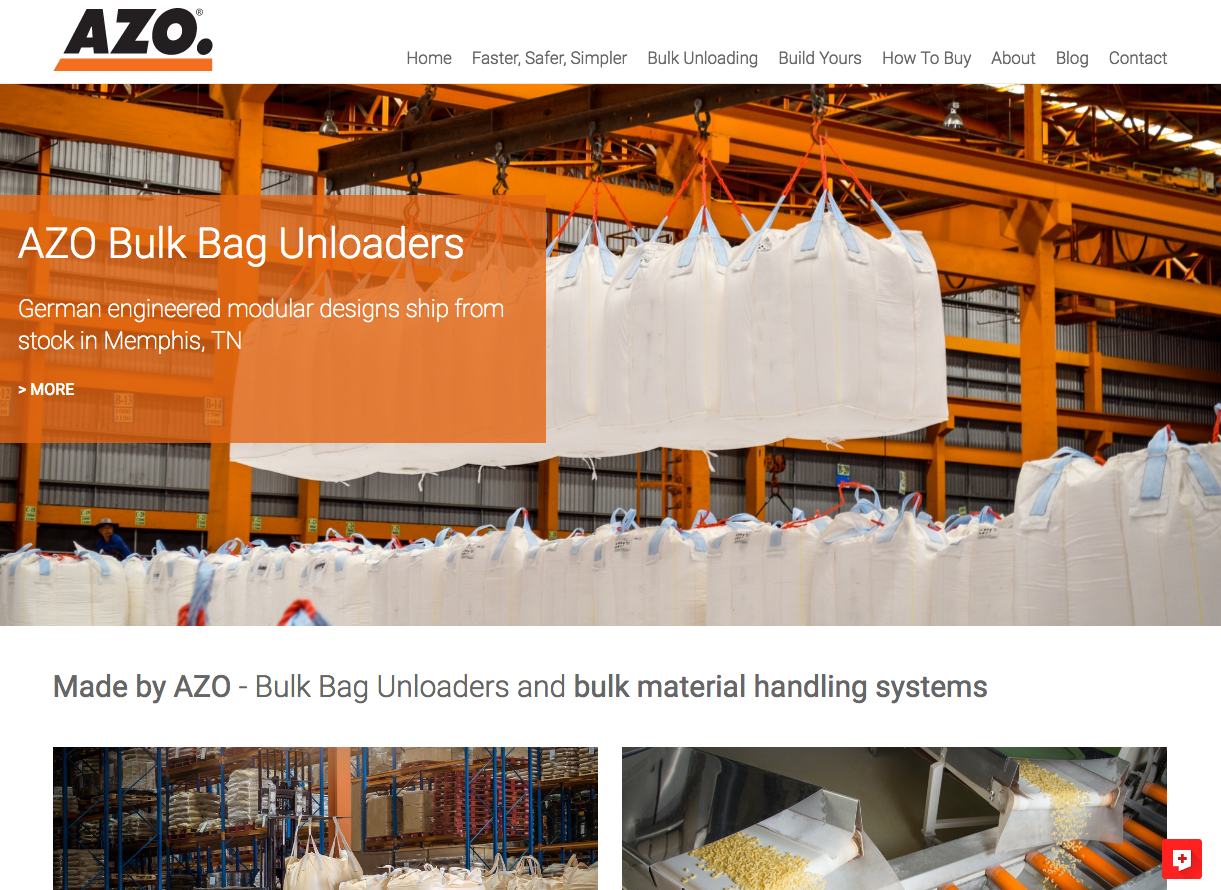 AZO, Inc. today announced the publication of a new website designed to help US manufacturers source and configure the optimal bulk bag unloading equipment for their operation.
The site, which includes live chat and downloadable informational material was built to help engineers find the right answers fast - both for their requirements and the other member of their buying team - when they need to replace or add additional discharge solutions for their bulk sac operations.
Businesses considering their first super sack unloader will also find appropriate resources including a buying guide and information regarding common elements of investment justification including labor savings, reduced bulk material cost, increased worker safety and reduced disposal cost.
In addition to information on optimizing bulk bag unloading for various requirements, the site includes a configurator which helps visitors specify the right combination of modules from AZO's new stock program.
"Custom engineering is a big part of who we are," says Chuck Kerwin, General Manager, AZU, Inc. "But not everyone needs a big, custom system. Our new website is designed to help company owners, managers and engineers find the information they need to design, price and order the right bulk bag unloader for their operation."
The newly published site is located at www.BigBagUnloading.com. The site was designed to simplify the user experience and provides simple user interactions including chatbots which streamline the process of obtaining information.
About AZO, Inc.
AZO, Inc. engineers, builds and installs components and complete systems for bulk material handling requirements. A wholly owned subsidiary of AZO GmbH + Co. KG, the company supports US customers with technical support from it's central US location and rapid parts delivery given its proximity to FedEx's Memphis hub. AZO equipment is used in companies ranging from small, family owned businesses through the world's best known industrial and consumer products companies. AZO equipment is widely used in industries including food, snack, bakery, chemical, plastics, confectionery and pharmaceuticals.