9 Material Handling Stories You Might Have Missed in May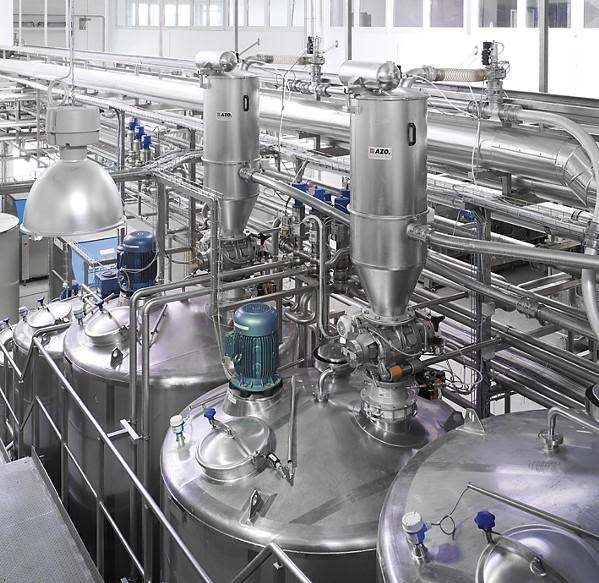 As we here at AZO have been busy publishing blog posts and other offers on our bigbagunloading.com site, so too have many news publications in the material handling world covered various topics in pieces of content they have released this month. Many of these news stories cover the effects of COVID-19 on multiple ingredient handling industries. Here are 9 stories related to material handling from May 2020:
President of Sosland Publishing describes bakers' "opportunity"
May 7
In a brief for Baking Business.com, Josh Sosland reminded bakers that consumers are in a unique place "experimenting" with affordable packaged foods due to lockdowns. According to Sosland, Kellogg Co. saw millions of new ready-to-eat cereal consumers from February to March, and more than 15 percent of Ritz and Oreo consumers were "new to the brand" during this time.
The piece makes it clear that consumers will still want to try new products, "even in depressed economic times." This is an opportunity that bakers can't (or shouldn't) miss out on, according to Sosland and Baking Business.
Facility fires break out in Michigan and in Venice
May 13
A silo containing pulp pellets caught fire at the Michigan Sugar beet processing plant in Caro, MI on May 12, according to Powder Bulk and Solids Magazine. No one was injured from the fire, which was likely caused by heat from fermenting pellets.
Two workers of an Italian chemical plant were severely burned on May 15, according to Reuters. Clouds of black smoke and flames following an explosion prompted authorities in Venice to order residents to remain inside with closed windows. Local media outlets including RAI state television confirmed that the explosion hit 3V Sigma, a specialty chemicals group.
These events, in conjunction with OSHA fining a chemical manufacturer $54K last month, are further insinuation to abide by guidelines set by the National Fire Protection Agency (NFPA). This month AZO released a new infographic in an effort to make more manufacturers aware of recent deadline adjustments related to dust hazards set forth by the NFPA.
More than 1,100 COVID-19 confirmed cases at Tyson pork plants
May 15
A man who worked in the Waterloo, IA, Tyson Fresh Meats processing plant has died after becoming infected with COVID-19, according to the Associated Press. More than 1,000 employees from that plant have also tested positive. Tyson Fresh Meats spokeswoman Liz Croston was quoted saying the company was "deeply saddened" by the loss of Axel Kabeya, "a team member at our Waterloo facility."
During a temporary shutdown of another Tyson Pork Plant in Nebraska, 112 other workers were found positive for the virus from May 1 to May 4, according to Powder and Bulk Solids Magazine. 100 other cases were then reported by local healthcare workers in Madison, NE. Of the initial cases identified by facility-wide testing conducted with the Elkhorn Logan Valley Public Health Department, 84 of the positive cases showed no symptoms of the virus.
"Our top priority is the health and safety of our team members, and we appreciate the collaboration and support of Elkhorn Logan Valley Public Health Department as we provided testing and took steps to complement our existing prevention efforts," read a statement from Tyson Foods Vice President of Health and Safety Tom Brower. "As we learn more about the virus, we continue to do everything we can to protect our team members and ensure they feel safe and secure when they come to work."
New study released on pneumatic conveying industry
May 16
The future of the global pneumatic conveying system industry was forecasted in a new study by Eon Market Research. "Global Pneumatic Conveying Systems Market 2020 Research Report 2015 - 2025" aims to estimate the impact on the industry in a post-COVID-19 climate. Market trends, opportunities and challenges are explored in this new study.
Pneumatic conveying systems from North America, Latin America, Europe, Asia Pacific and Middle East Africa are analyzed. Country-level analyses were also included for U.S., UK, France, Germany, Russia, China, Japan, India and Brazil. Eon Market Research cover reports in industries like chemicals, consumer goods, energy, medical devices, pharmaceutical and health care as well as food and beverage.
OSHA enforcing record-keeping and ramping up in-person virus inspections
May 20
As state economies begin to reopen after COVID-19-related shutdowns, two enforcement policies have been revised from The U.S. Department of Labor's Occupational Safety and Health Administration (OSHA). These policies seek to ensure that employers are taking action to protect their employees, according to Food Manufacturing Magazine.
In-person inspections in all types of workplaces are increased by OSHA as the changing circumstances reflect that several non-critical businesses have started to reopen in "areas of lower community spread." Recordkeeping requirements have also been updated by OSHA classifying coronavirus as a "recordable illness." Employers are responsible for recording work-related cases, making reasonable efforts to determine whether cases are work-related.
Updates can always be observed at OSHA's coronavirus-specific webpage: www.osha.gov/coronavirus
ReGrained bread founder talks upcycling ingredients on Baking & Snack podcast
May 20
How Daniel Kurzrock went from baking his mother-in-law's recipe for granola bars in his college apartment to founding a company that converts spent grains from the brewing industry into flour for new products was the focus of the latest episode of Baking & Snack's podcast. On the May 20th upload of "Since Sliced Bread," Kurzrock explained how he feels that ReGrained "developed a solution that makes the right thing, the easy thing" for the snacks industry.
"Food waste is a huge problem," Kurzrock said in the episode. "It's also a huge opportunity. Sourcing upcycled ingredients and bringing them to market is one of the most authentic ways a bakery or food manufacturer can make an impact beyond minimizing waste in their own operations."
This second season of the Since Sliced Bread podcast primarily has focused on innovators who have little to no background in food manufacturing, but who were still able to "shake up ideas" in the industry. Kurzrock went into detail about how his own manufacturing process changed as ReGrained scaled up.
"Originally [we manufactured] a baked bar, but we knew eventually that a much more efficient process involves heating the syrups and then mixing those in with the dry ingredients," he said in the episode. "Then, it cooks as it cools. We transitioned our process to be a no-bake bar because that would make it so that we could transition to the contract manufacturer … We see ourselves as a really passionate, energetic values-driven voice in the industry."
FDA and USDA introduce memorandum seeking to prevent interruptions in food supply
May 20
A memorandum for understanding to help prevent interruptions at FDA-regulated food facilities was announced by THE US Department of Agriculture and the Food and Drug Administration on May 19, according to Food Business News. The memorandum creates a process for the organizations to decipher when the USDA could use its authority under the Defense Production Act on food resource facilities falling under the FDA's jurisdiction.
A joint statement was released by Mindy Brashears, Ph.D. (USDA's undersecretary for food safety) and Frank Yiannas (FDA deputy commissioner for food policy and response).
"While the FDA will continue to work with state and local regulators in a collaborative manner, further action under the DPA may be taken, should it be needed, to ensure the continuity of our food supply," the statement read. "We will continue to work with facilities and farms, CDC, OSHA, and state, tribal, and local officials to ensure facilities and farms are implementing practices consistent with federal worker safety guidelines to keep employees safe and continue operations."
If you have any other questions or concerns regarding plant process challenges, feel free to contact our sales team. AZO has seven decades of experience in the ingredient automation world and tons of topics we've covered on our blog.
Related Blog Posts
In the realm of safety glass manufacturing, precision is not just a goal; it's an absolute necessity. An AZO customer, Glass Film
Finally a great month of economic news where the markets have rebounded, while the fed has efficiently fought inflation. What once looked