Introduction
There are many options when it comes to powder and bulk solids handling systems. In a more traditional pneumatic system, material comes out of a hopper and is pneumatically conveyed to a use point. As an alternative, consider a containerized system, where materials are placed into rigid intermediate bulk containers and those containers are then moved from one step of the production process to the next.
Container systems are generally a good idea when using a large number of ingredients or when you need to segregate dissimilar materials. Container systems support contamination-free production and are also highly adaptable so they can be configured to meet the specific needs of individual ingredients.
When you opt for a container system for material handling, a product of that decision is the need for a docking system to discharge or fill containers. A container docking station is the interface between a rigid container and the next step in the process — or it's a process step above with a docking station that feeds into one of those containers.
The goal is to make the docking process as efficient, clean, ergonomic, and safe as possible.
Benefits of Using Container Docking Systems
Automation Capabilities
Container docking systems can be outfitted with automation to streamline material handling. With less human intervention, material handling becomes safer and more precise. This extends from how openings are enabled to how connections are made.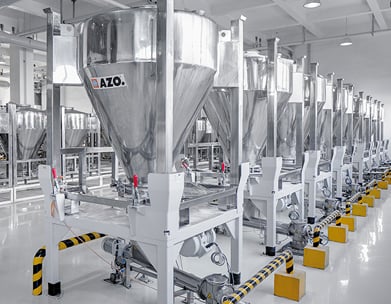 Contamination-Free Operation
Reliable contamination prevention is critical in material handling processes. Dust control and dust extraction mechanisms can be added to a container docking system's design. No dust will enter your product stream, and the same goes for any other foreign matter.
Good Ergonomics
Modern container docking systems can be relatively ergonomic. While you need some means of material transport, the docking stations themselves are set at the floor level. This makes setting containers more efficient and easier for operators to dismantle and clean.
Assess Automation Needs When Choosing Container Docking Systems
We've mentioned before that container docking systems allow for automation. Before you invest in a system, ask yourself this: what degree of automation would be required or preferred?

Naturally, the more automation involved in the system, the greater the initial investment will be. But you'll also require less manual labor, the system will operate more efficiently, and you'll increase your throughput. So there's a case to be made for long-term savings and total cost of ownership.

As far as opportunities for automation, consider how the passage is opened to allow products to be dosed into a container. A butterfly valve above and below the system can be automated with actuators and a control system. Alternatively, the valve could also be manually opened by hand.

How you connect the container docking station can also be automated or manual. Performed manually, an operator has to fit the inlet/outlet of the docking device to the container. In the automated scenario, pneumatically actuated cylinders can raise and lower the docking head. A docking collar presses down on the head of the container and automatically creates a dust-tight connection.
AZO Container Docking Solutions
AZO's container docking systems allow for dust-free, reliable product discharge into rigid containers. A patented docking collar allows for dust-tight connections, while the system's design enables fast and flexible product changeover. As an added benefit, the construction of the docking system fits most common container styles and sizes for ease of use.
When used as part of an AZO COMPONENTER, the technology allows for the automatic docking and undocking of containers at fixed dosing devices. When docked, it's ensured there is no contamination between dosing points. When undocked, the dosing device and mobile hopper are tightly sealed so no material can escape into the atmosphere.

A similar concept applies to container docking systems used for docking dosing units to fill batch containers or scale hoppers. A bulk ingredient container is placed on the docking station, and the system initiates the dosing into the batch container or scale hopper. The bulk ingredient container is then removed and replaced with another ingredient container or the lid is placed over the docking inlet. This allows for faster, safer operations with improved precision.
Trust AZO for Your Container Docking Systems
With a decades-long track record of industry excellence, AZO is the trusted choice for your container docking systems. Designed for precision, reliability, and customization, our cutting-edge container docking solutions support seamless and efficient material handling solutions. We'll design you the exact solution to precisely fit your needs, and use our wealth of knowledge and expertise to ensure the success of your operations.
Resources About Container Docking
Cut Sheet
Solutions
AZO Universal Docking System
Contact Us Today
What type of question do you have?