AZO Unveils New Website: Your Guide to Advanced Bulk Ingredient Handling Solutions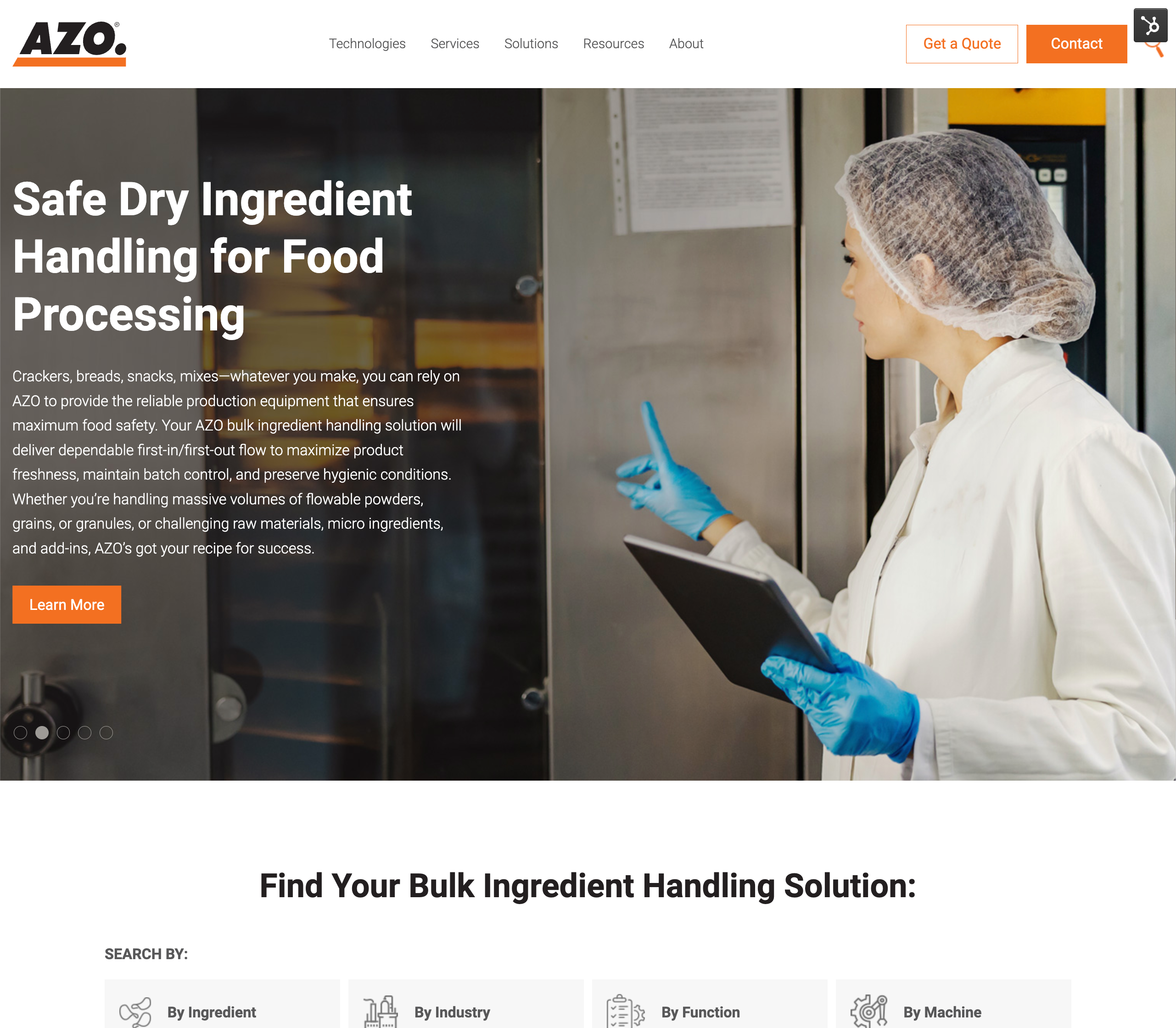 At AZO, we're thrilled to introduce the relaunched AZO-Inc.com, a culmination of our commitment to revolutionizing bulk ingredient handling solutions. Our redesigned website is a one-stop destination, offering an extensive range of resources catering to a diverse spectrum of needs including markets, ingredients and function. Our new site is intended to be both educational and interactive, allowing our visitors to find the perfect solution to your ingredient handling needs.
Customized Systems and Tailored Solutions with AZO Engineers
Central to our new website is an in-depth exploration of AZO's custom-designed bulk ingredient equipment systems. Visitors will find an illuminating guide detailing our collaborative process with AZO engineers, developing a customer specific bulk material handling system. Each step reflects our dedication to curate solutions specifically tailored to meet the unique demands of businesses in pharmaceuticals, food, beverage, confectionery, dairy, plastics or chemical industries.
Further enhancing the explanation of our process, case studies allow website visitors to learn about specific success stories, where AZO engineering helped provide a customized solution that solved a specific problem.
Specialized Industry Pages with Interactive Components
Another highlight of our new website is the new industry-specific pages, offering interactive insights into systems crafted for various sectors. Visitors can delve into these industry specific pages, which showcase not only detailed information but also interactive images spotlighting specific components of our innovative systems. These sections provide an immersive experience, allowing you to explore our solutions visually, understanding the functionality of each piece of equipment and how they come together into an integrated material handling system.
Dive Deeper into Ingredient Safety and Visit our Robust Resource Center
Our commitment to safety is emphasized through a comprehensive section that delves into the handling of specific ingredients. This section highlights material properties, safe handling practices, and operational best practices, ensuring a secure and efficient working environment.
Additionally, our Resource Center, an enriched repository of assets, contains component cutsheets, engaging videos, and compelling case studies. Witness firsthand how our solutions have effectively resolved ingredient handling challenges across many different industries.
A New Experience, The Same Level of Expertise You've Come to Expect
As you navigate through the redesigned AZO website, expect an experience that transcends mere supplier-customer interactions. We are your dedicated partner, offering knowledge, innovation, and excellence knowledge that align seamlessly with your unique requirements. With an emphasis on interactive learning, industry-specific insights, and a rich resource center, AZO-Inc.com is more than a website – it's an invitation to explore the future of bulk ingredient handling.
Welcome to an immersive world of possibilities, welcome to AZO.
Related Blog Posts
In the realm of safety glass manufacturing, precision is not just a goal; it's an absolute necessity. An AZO customer, Glass Film
Finally a great month of economic news where the markets have rebounded, while the fed has efficiently fought inflation. What once looked