A Bulk Bag Unloader Protects Your Bottom Line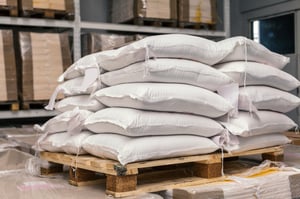 A bulk bag unloader works fast. Think about this: How many workers does it take to empty 50-pound bags fast enough to keep your operation running? Probably more than you have space for around the mixer. But a bulk bag unloader can do much more than solve this problem.
The bottom line is that bulk material handling, particularly the unloading, is an operational function that doesn't necessarily lend itself to simply throwing more labor at the problem. Even if the economics work, it is operationally impractical and may even be physically impossible.
A bulk bag unloading system may be the key to boosting production throughput — and for growing companies that's an imperative.
But it's not the only reason to consider adding a bulk unloading system.
Reduce Raw Material Cost
As 2018 came to a close, numerous consumer products and food manufacturers have warned of price increases due to rising raw material costs. Component ingredients and labor, along with energy and logistics are main drivers of cost.
One of the simplest ways to reduce ingredient costs is by buying dry bulk material in larger quantities. Bulk packaging into big bags (you may also call them super sacks, FIBCs or bulk bags) is much less expensive than packing into common 50-pound bags.
That reduces purchasing costs for the material itself and simultaneously creates sympathetic savings. Disposal costs are often overlooked but not insignificant. Operations using 50-pound bags for bulk material receipt often create a lot of waste for disposal, and the waste often creates maintenance challenges. Tearing open, dumping and then manually collapsing bags results in more dust than with controlled discharge from a bulk bag unloading system — particularly one that incorporates dust control features.
Redirect Labor Investment
Recruiting, hiring and retaining workers is a huge challenge for many manufacturing facilities. In many cases that means companies have folks working overtime or have important positions unfilled.
Reducing the number of workers required for unskilled, repetitive work like lifting, cutting, dumping and disposing of 50-pound bulk paper bags frees up workers for other higher value tasks. Of course if they're not needed elsewhere it also creates potential savings on labor to compliment the bulk material cost advantages as well.
The type of bulk bag unloading system you select makes a difference to your labor cost as well. Many low cost bulk discharge systems rely on forklift loading. Assuming all reasonable and required safety procedures are followed, then changing a bulk bag requires two people — including a fork truck and an operator.
Big bag unloaders which incorporate electric hoists are not only inherently safer, but they also allow loading and unloading with a single operator. Depending on your flow rate and material consumption (for instance a 2,000-pound bulk bag every 15 minutes) that represents potentially significant savings.
Bulk Bag Unloading Systems Improve Worker Safety
Bending, lifting and cutting are all major EHS concerns for every manufacturer. Manually unloading 50-pound bags involves all three. It's an unpleasant, low-skill and low-value task, that is inherently problematic for workplace safety.
By replacing the manual unloading with a bulk unloading system, a company can solve for all those risky steps at once. A bulk bag unloader that incorporates an electric hoist and trolley removes the manual risks without introducing other risks related to the use of fork trucks in loading the bags.
And don't discount the boost to morale. This easily implemented bit of bulk material handling automation solves for a task that's no fun. Your workers will appreciate your interest in their work tasks and environment.
Boost Product Safety With A Bulk Bag Unloader
While the safety of the workers in your factory is an important consideration, so is the safety of consumers of your products. Often bulk bag unloading systems are used in food, snack and baking operations, and product purity is important to quality and food safety.
The process of manually emptying 50-pound bags introduces opportunities for contamination, whether of the materials themselves or the environment around your workers.
A bulk bag unloader with pneumatic transfer or controlled metering eliminates the risk of contamination.
Smart Automation for Growing Operations
The biggest takeaway, after safety and efficiency, is that adding a bulk bag unloading system to your operation is simple.
Growing companies often endure the pain of gradual automation because of assumptions about cost and complexity. And make no mistake, bulk material handling systems can be extremely complex with very sophisticated controls automation.
But adding a bulk bag unloading system is generally pretty straightforward. You can start with a bulk bag unloader and build from there. Bulk bag unloading systems can often be added as standalone modules with some simple transfer conveying and controls. From bag dump stations to bulk bag dischargers, processing equipment and dust collection options, it's very easy to manage material flow.
That translates to a relatively short lead-time, rapid implementation and minimal budget impact. It's a perfect incremental solution for a rapidly growing small or mid-size company.
Want to dig a bit deeper into whether it's a fit for your circumstances? We're happy to share our free downloadable Bulk Bag Unloader Buying Guide. Grab your copy here.