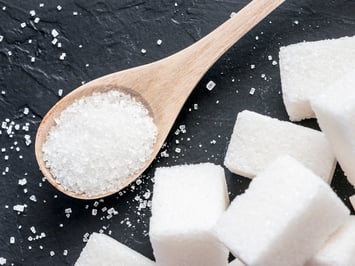 As we move into 2023 hope springs for an economic recovery. This past month's headlines were dominated by hopeful forecasts for ingredients hit hard by Covid, war, weather, and other economic factors. Even with all the social media memes comparing them to currency, eggs also received a jolt of good news. Here are five headlines that have us looking forward to a "new and improved" year.


Softening Consumer Demand Has Market Egg-cited For Lower Prices
The US Department of Agriculture in a recent weekly Egg Markets Overview indicated likely signs of weaker tones in egg values along with softening consumer demand. This is after eggs recently notched their ninth all-time price record for the year, supported by robust consumer demand and ongoing impacts from the avian influenza outbreak.
Consumer demand showed signs of decline in the week between Christmas and New Year's Day, and overall supplies were expected to increase. Demand from breaker operations also diminished in December. Holiday schedules tend to pressure demand since many plants cease operations during this period. As processors return to production in the new year, demand from this corner is expected to remain flat since breakers traditionally lean upon inventories for immediate needs while waiting for shell egg prices to fall during the post-holiday lull.
While the start of 2023 has continued this drop in demand and leveling out of prices, further price decreases will largely be determined by future cases of HPAI. So far, there have not been any cases reported in the new year.
To Read the Full Article, Click Here
---

Pour Some Sugar On Me - USDA Boosts Supply Forecasts
The US Department of Agriculture in its Jan. 12 World Agricultural Supply and Demand Estimates (WASDE) report raised from December its forecast of 2022-23 US beet and cane sugar production, slightly lowered imports and left deliveries unchanged, resulting in a jump in the stocks-to-use ratio.
The biggest change was US sugar production forecast at 9,248,000 short tons, raw value, up 209,000 tons, or 2.3%, from the December forecast and up 92,000 tons, or 1%, from 2021-22, which was estimated at 9,156,000 tons, up 19,259 tons from the prior month due to a like increase in cane sugar production in Louisiana.
The good news didn't stop there as beet sugar production was forecast at 5,048,318 tons, up 120,819 tons, or 2.5%, from December, and cane sugar was forecast at 4,199,000 tons, up 88,216 tons, or 2.1%.
If forecasts hold true, 2022-23 cane sugar production would be the highest on record, and total sugar production would be the second highest on record after 9,293,000 tons in 2017-18.
To Read the Full Article, Click Here

---

No Need For a Farmer's Almanac - 3 Forces That Will Affect

Commodity Prices in 2023
While many factors affect commodity prices throughout the year, there are clear indicators that can help predict the year ahead. The three most obvious market movers are COVID-19 (still), war and weather, with the latter always a key factor on a regional if not on a global scale.
1. COVID Pandemic - the pandemics impact on labor and logistics still is being sorted as those influential market elements seek a post-pandemic normal. Freight rates (mainly truck and ocean) have fallen sharply from COVID-induced record highs and are expected to continue to moderate in 2023. Labor is another matter, with nearly all industries (food processors and manufacturers included) noting some level of ongoing worker shortages adversely affecting output. Most prognosticators don't see the labor situation changing much in 2023. Automation will become more viable if the labor shortage becomes a long term problem.

2. Russia/Ukraine War - the war in Ukraine is nearing the one-year mark since Russia's Feb. 24, 2022, invasion. The impact on grain and oilseed markets in 2022 has been well documented, but what lies ahead is murky. The agreement to allow safe export of grain from Ukraine's Black Sea ports for humanitarian reasons runs through March.
Despite the war, wheat exports from the Black Sea region, mainly Russia, have dominated international tender activity due to low prices, limiting export opportunities for US wheat.
3. Weather Patterns and Events - Weather is an ongoing influence that will drive grain, oilseed and other agricultural markets. Hurricane Ian in 2022 reduced Florida's orange crop to the smallest since 1937. Drought across much of the US hard red winter wheat growing region was a concern as the crop headed into dormancy. Argentina, the world's largest soybean oil and soybean meal exporter, has battled drought as well with soybean production forecasts slashed.
To Read the Full Article, Click Here

---

Rebuilding the Pyramid - FDA Restructuring Food Program
In the wake of this summer's infant formula shortage, the FDA is restructuring its food program by combining the Center for Food Safety and Applied Nutrition, Office of Food Policy and Response and certain aspects of the Office of Regulatory Affairs into what will be known as the Human Foods Program.
In a report submitted by the Reagan-Udall Foundation, it was recommended 1) to create separate agencies within the Department of Health and Human Services to oversee food and drugs or 2) separating the food and drug arms within the FDA or 3) establishing a new deputy commissioner position with authority over the FDA's food regulation responsibilities.
Within the Human Foods Program, the FDA also will create the Center for Excellence in Nutrition to work with industry to offer more nutritious foods and it will create the Office of Integrated Food Safety System Partnerships to work with state and local regulatory partners on food safety issues and programs.
The FDA has formed an implementation group that is charged with developing a plan to ensure the successful restructuring of this program.
To Read the Full Article, Click Here
---

Tell Us What You Want, What You Really, Really Want - Consumers Weigh-in on Food Trends for 2023

Transparency, sustainability, nutrient density and cognitive health — now are becoming rooted in many consumers' path to purchase, according to speakers at a Jan. 25 conference hosted by The Hatchery Chicago, an incubator that supports food and beverage entrepreneurs.
In a survey conducted by Morning Consult, which found sustainability is higher on the list of priorities for younger consumers, supports IRI's findings. Specifically, the survey found more than two-thirds of Gen Z respondents said sustainability has at least some impact on their food and beverage choices, including 32% who said it has a major impact.
Younger consumers especially are interested in messaging around sustainability, said Joan Driggs, vice president of content and thought leadership for IRI, Chicago.
Market research by The NPD Group, Chicago, also found consumers have become increasingly focused on the role food plays in their mental health.
Fueled by missed milestones and sweet indulgences to celebrate them, desserts and treats will see an increase in sales. However, more health conscious choices, such as smaller packages, will be key factors in consumer selection.