AZO Inc. is celebrating more than four decades in the industry. But we want you to know where it all began. Our company's rich and storied history is built on the values we exude today.
The word "innovation" may not immediately bring to mind a flour miller and the son of a preacher, but these descriptions fit the two people responsible for starting an exceptional American service, sales and support organization that has lasted 40 years.
Hunt Moore formed a relationship with Adolf Zimmerman, the founder and owner of AZO, by traveling and seeking key German business owners and asking to be their manufacturer's representative in the United States. At the time, this was an extremely forward-thinking move for a business man in the Bluff City (Tennessee).
Adolf Zimmerman and Hunt Moore shake hands in 1978. For 40 years AZO Inc. has provided exceptional service, sales and support in America as AZO GmbH provides quality German engineering.
After representing Zimmerman for 15 years and cultivating a friendship between the two families, Moore was asked to help start the American subsidiary of Zimmerman's company. The rest is history.
1978
AZO Inc. is founded in Memphis, Tenn., as a partnership between the Moore and Zimmerman families. The business was set up as a corporation but managed as a partnership.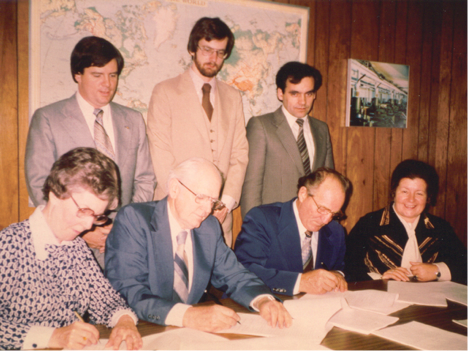 Hunt Moore and Adolf Zimmerman sign documents forming AZO Inc. in 1978. After representing Zimmerman for 15 years as a manufacturer's representative Moore helped start the American subsidiary of AZO in Memphis, TN.
1980
Installation of the first PLC (Programmable Logic Controller) in an AZO Inc. system.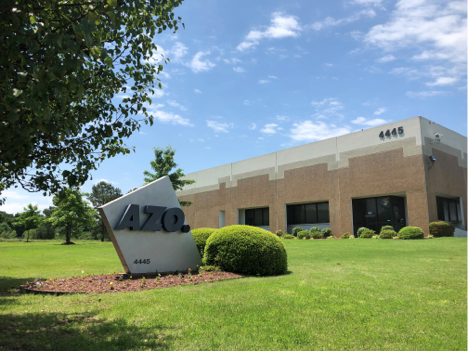 The offices of AZO Inc. have been located at 4445 Malone St. in Memphis, TN since 1984.
1984
AZO Inc. builds its first office, warehouse and assembly complex in Memphis. Before 4445 Malone was established, space was simply rented to fulfill AZO Inc. operations.
1986
AZO Inc. installs the first Computer Graphics System for a major North American food manufacturer. Rather than having a control panel with physical switches and lights, this allowed for the process system to be visualized in new computer technology.
1988
AZO Inc. and AZO GmbH come together to celebrate 10 years of success in North America.
1990
AZO Inc. installs the most technically advanced bakery ingredient system of its time in North America.
1992
Design and construction begins for the largest AZO Inc. system in North America for a major snack cake producer.
1994
AZO Inc. begins representation of Amixon in North America. Since this partnership, AZO has promised to "bring it right to the mixer" with AZO equipment, as Amixon mixers are the next logical step down the processing line.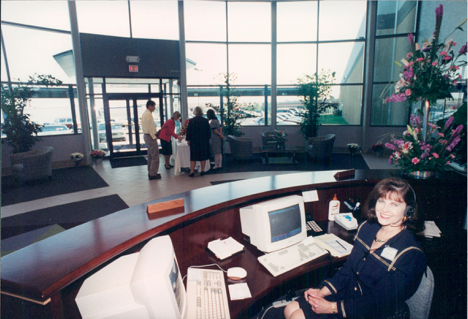 1994, 1995
AZO Inc. expands its building to add new office space, a demo room and plans for additional growth with a second floor in the new building.
1996
AZO Inc.'s first MES software integration project links information in the AZO system to the accounting system and the customer's business system. This software integration was a significant event that still sets AZO Inc. apart in terms of sophistication and customer service. Our information is linked from the control system directly into ERP systems.
1998
AZO Inc. installs the most highly automated system of its time in a North American prepared food mix facility. This installation approximately tripled the production per day and increased the number of products processed by a multiplier of at least four times more. This food mix facility originally made 10 products, but now produces 120 products thanks to original innovation by AZO Inc.
2000
AZO Inc. begins design and construction of the first automated central weigh room for a North American pharmaceutical facility.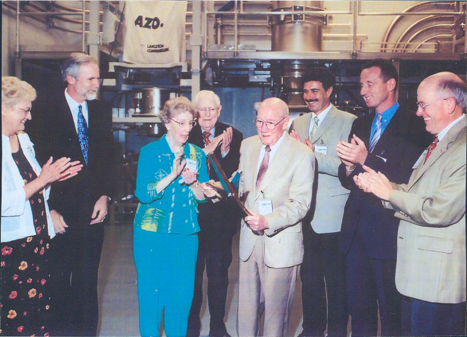 (From right to left) Jim Cavender, Rainer Zimmerman, Robert Zimmermann, Thorp Callaway, Hunt Moore, Patricia Moore, Bob Moore and Lucille Callaway celebrate as Mr.Callaway cuts a ribbon for the opening of the "Thorp Callaway Ingredient Automation Test Facility" on June 6, 2003.
2003
A newly renovated AZO Inc. powder testing center and test lab is opened in Memphis during the 25th Anniversary Open House.
As then-president Bob Moore noted that "no one spent as much time" in the existing facility as former employee Thorp Callaway, the one-million-dollar facility was renamed the "Thorp Callaway Ingredient Automation Test Facility."


"Up until his retirement in 1993, Thorp Callaway was, without a doubt, a champion for AZO equipment in North America," Moore said at the event. "It's an honor to recognize Thorp since his hard work, in large part, made this facility possible."


Since then, AZO Inc. has had the ability to capably test ingredients, take samples and evaluate whether the material will be easy to handle in a pneumatic conveying system. Clients are welcome in the testing center to view tests in person, or videos can be sent demonstrating how they're conducted.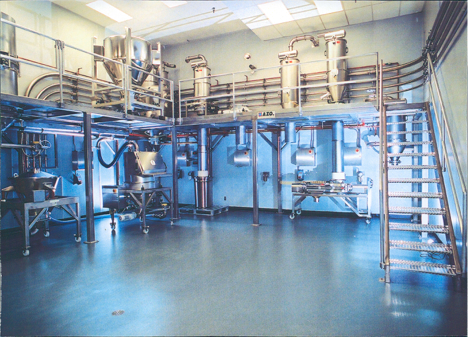 The Thorp Callaway Ingredient Automation Test Facility at AZO Inc.
2006
The AZO Inc. Thorp Callaway Ingredient Automation Test Facility is again rebuilt. This renovation included the addition of a big bag station, as well as new piping, blowers, receivers, test equipment and new shelves for the powder testing center.
2008
Robert F. Moore, president of AZO Inc., retires after 30 years with AZO Inc. and the Moore's ownership was transferred back to the Zimmerman family. Jim Cavender is promoted to Chief Operating Officer (COO).
2009
AZO Inc. becomes a subsidiary of AZO GmbH, owned by the Zimmerman family.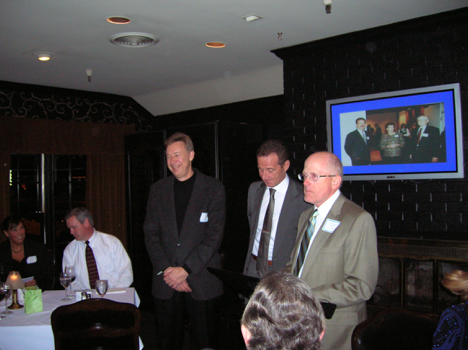 (From right to left) James Cavender, Rainer Zimmermann and Chuck Kerwin speak at Mr.Cavender's retirement party.
2011
Chief Operating OfficerJames Cavender retires after 30 years of working for AZO Inc. and Chuck Kerwin becomes general manager.
2013
AZO Inc. is awarded among the Memphis Top Workplaces by The Commercial Appeal. This annual list is based on employee surveys from hundreds of different companies and organizations. Fifty five are awarded in the end. AZO was also awarded in 2014, 2016, 2017 and 2018.
2014
AZO Inc. begins design and construction of its largest dry mix plant for a global food manufacturer. The first North American ShuttleDos Componenter was planned for this facility.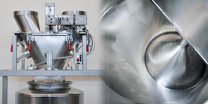 Special advantages of the CleanDock® include an easy to clean design, reliable contamination prevention and automatic docking of containers, big bags and drums.
2015
The top of the line Componenter, the ShuttleDos, is placed in operation at a global food manufacturer in the U.S. This Componenter contains the "CleanDock ®" feature on top of each shuttle, which prevents dust from entering the process between the container and dosing device. It also separates ingredients from allergens and non-allergens, ensuring cross contamination between the dosing points does not take place.
2016
The Engineer In Training program is formally created and staffed. The three-year program introduces recent college graduates to AZO technology in system design, project management and customer service.
2018
Thanks to a booming economy and the addition of upgraded resources, AZO Inc. reports $42 million orders in a single year. This record was due partly to marketing efforts, sales efforts and project management efforts that allowed the company to take on more business.
In 2018, AZO Inc. was also awarded as the "Corporate Volunteer Partner of the Year" by Memphis Public Libraries, and, in addition to placing in The Commercial Appeal's Top Workplaces, was presented a special award in recognition of "Work/Life Flexibility."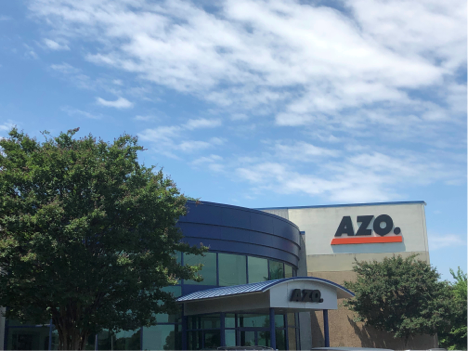 AZO Inc. in 2019
2019
Celebrating AZO Inc.'s 40th anniversary, the company renovated its offices to continue the tradition of exceptional service, sales and support in America. AZO provides high-quality German engineering and American customer service — offering the best of both worlds just as the company has for 40 years.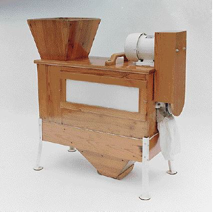 In 1952, 26 years before the American subsidiary of AZO was formed, Adolf Zimmerman launched the first cyclone screener onto the German market. To this day AZO Inc. still sells robust and heavy duty screeners in America that are based on the founding ideas that made Zimmerman's first machine such a success.
If your plant is ready to experience the best in German engineering as well as American customer service, use our configurator to find the bulk bag discharging equipment you need.