Bulk Bag Lifting Equipment: Benefits of an Electric Hoist on a Bulk Bag Unloader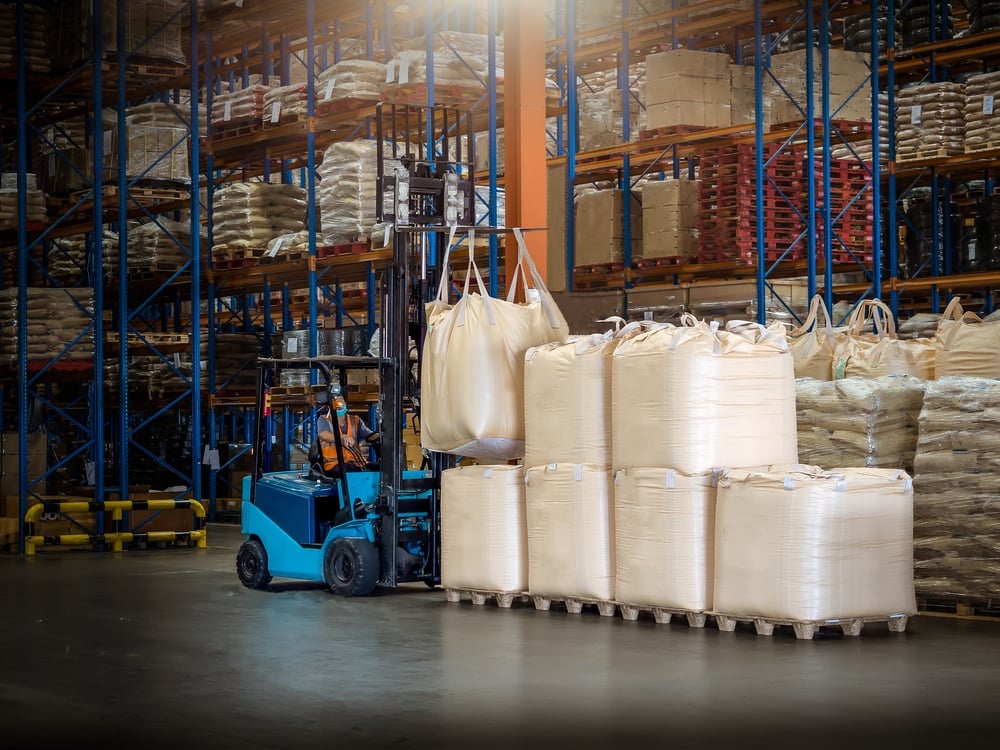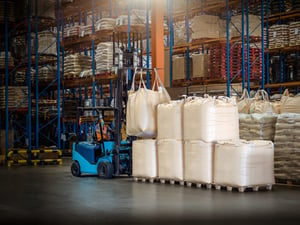 An Electric Hoist Makes Your Bulk Bag Unloader Safer
First and foremost is safety when it comes to your bulk bag lifting equipment. An electric hoist, for example, will benefit your workers in many ways while also keeping them safe. You've probably heard some of the alarming statistics regarding fork truck safety. These representative statistics tell a concerning story.
Some industries and manufacturing environments are best suited for fork trucks. Others, like food and pharma, often seek alternatives to accommodate hygiene and small space requirements.
Good training is essential, and many fork trucks operate safely. However, 11 percent of the 855,000 forklifts in the U.S. will be involved in an accident. So when there are reasonable alternatives, it's worth considering.
Electric hoist away bags are a safe alternative to fork trucks for bulk bag unloaders (also known as super sack discharger). Not only does the electric hoist away bags eliminate the need to have a fork truck lift a 2,000-pound bulk bag 10 to 12 feet into the air, it also provides additional operational and financial benefits.
Bulk Bag Unloaders Reduce Labor Cost and Boost Efficiency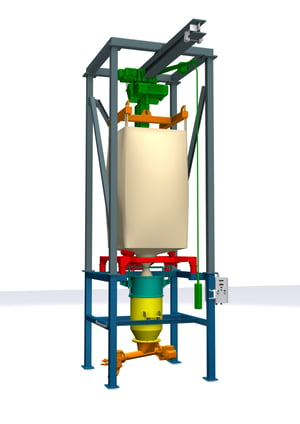 To load a bulk bag discharger with a forklift as safely as possible requires two workers. One drives the forklift and hoists the bag. The other climbs up on the unloader and secures the bag to the suspension frame.
Visualizing that process for your bulk bag lifting equipment, one operator has their vision restricted by the pallet on the forks and advances into the frame where their colleague is standing. That colleague isn't working from a stable mezzanine but has climbed to reach the connection point and is working over an open area while making the connection.
It takes time for two workers. It takes alertness and patience. In a noisy environment, it's hard to hear spoken instructions.
Adding electric hoist away bags to a bulk bag unloader, however, changes the game.
With electric hoist away bags a pallet jack can be used to move the bulk bag into position in front of the unloading system. The hoist is mounted on a gantry and operated via a control lanyard. This allows the operator to stand clear of the bag. That keeps them clear of the hoist and frame, but more importantly keeps everyone clear of the danger zone as the FIBC is being raised and moved into position. The risk of workers inadvertently entering the area below a suspended 2.000-pound bag is important to avoid.
Once the hoist away bags are lowered, the operator connects each of the four corners with lifting loops. If you are comparing bulk bag unloaders, be sure to look for a model that includes the redundant safety clips which ensure the loops don't slip off the lifting frame. (Check out our free downloadable Bulk Bag Unloader Buying Guide for this and other details.)
Electric Hoists Aid Bag Stretching
A bulk bag unloader should unload consistently and fully. While it may help to add vibration and bag massagers (both offered with AZO's Modular System with short lead-times) often the bag has to be stretched as it empties so the product is fully unloaded.
If using a fork-truck for bulk bag unloading, consider a few things regarding bag stretching.
First, it probably won't happen. As a result, some of your savings from bulk material purchase will be lost and wasted as it's discarded with a bag that hasn't been fully emptied.
Second, It will take two operators to maximize safety. Even if it's one, it will be cumbersome and time consuming to follow all required fork-truck safety procedures and stretch the bag.
Third, it takes time, and very few facilities have workers with any extra.
An electric hoist, in contrast, allows a single operator to easily stretch the bag conveniently with the lanyard controls from the safety of the floor away from the unloading zone.
Looking at Bulk Unloading Holistically
There are more than 60 bulk material handling equipment vendors in the U.S. That's great for buyers considering a wide range of options for their manufacturing challenges — from material receipt, through transfer, conditioning, conveying, to blending, mixing and bulk packaging.
With so many options, how do you spec the right solution and select the right vendor?
Focus on safety, durability and operational efficiency. Don't think of it as buying steel (some vendors will tout how much their lines weigh!) - rather think about the material flowing in one end of your building and finished product out the other.
You'll need a bag dump station. Maybe electric hoist away bags and trollies with good lift speed. You may possibly need some dosing and feeding components, processing equipment and a receiving hopper. Dust collection is often an integral bulk bag unloading feature. The bottom line: no two bulk bag fillers are the same.
If you're thinking about buying a big bag discharge system, check out our online configurator. Answer a couple questions about who you are, then three to four questions about your application, and voila, we immediately provide an engineering drawing and a quote.
It's that simple.
Related Blog Posts
In the realm of safety glass manufacturing, precision is not just a goal; it's an absolute necessity. An AZO customer, Glass Film
Finally a great month of economic news where the markets have rebounded, while the fed has efficiently fought inflation. What once looked