AZO COMPONENTER® Takes Center Stage at IBIE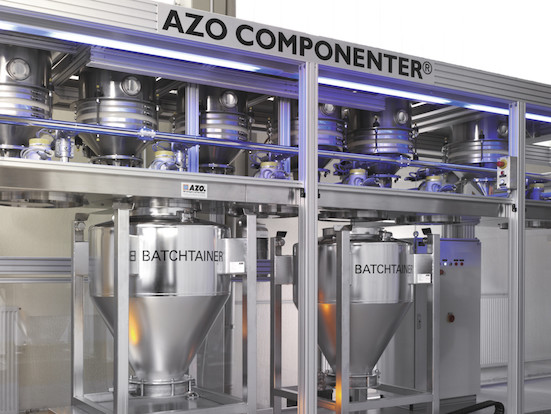 From game-changing insights to new innovations, the International Baking Industry Exposition (IBIE) — one of the grain-based foods industry's largest trade events — provides baking professionals with valuable ingredients to drive success. One of the key focuses for the 2022 event, as with years' past, is unveiling equipment and technology to streamline operations, enhance quality and generate more revenue across markets.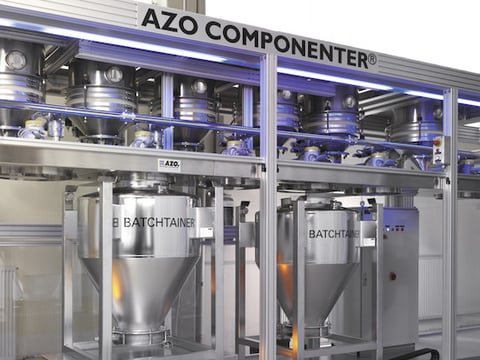 With these efforts in mind and this year's show just days away, AZO is proud to present our line of COMPONENTER® batching equipment at IBIE 2022. Get an early glimpse of how the COMPONENTER® product line is supporting industry needs, before visiting us at IBIE booth #1511.
An Introduction to AZO COMPONENTER® Batching Equipment
Designed to fulfill the requirements of automated minor or micro batching, COMPONENTER® makes it faster and easier to weigh, meter, and feed ingredients into your food production process. By greatly reducing or completely eliminating the manual manipulation of minor and micro additives, food production facilities save a lot of time and avoid the potential for inaccuracies and unreliabilities that impact product quality.
"The reduction in both operator involvement and potential inaccuracies and the ease of electronic lot tracking and tracing make the decision to implement a COMPONENTER® easy for handling repetitive minor or micro ingredients according to the recipe requirements." - Kevin Pecha, Key Accounts - Food, AZO Inc.
The COMPONENTER® system is as flexible as it is valuable. With multiple configurations to choose from, the robust system can be easily retrofitted into existing production lines — with the ability to easily expand in the future as needed.
Five Configurations Backed by One Goal: Use Automation to Your Advantage
The COMPONENTER® was designed to remove the operator from the mundane effort of manually weighing all the minor/micro ingredients in a recipe. Additionally, the use of automation allows for the electronic recordkeeping required and eliminates the floorspace required when hand-weighing and palletizing batches in advance as weighments occur as needed by the system; i.e. just in time.
COMPONENTER® Step
When operators must manually scoop individual ingredients into a container based on a recipe, the process is time-intensive, prone to cross-contamination and subject to operator error. With the COMPONENTER® step, an indexing conveyor automatically indexes individual containers through the ingredient stations, creating a steady-state process for small volume filling and batching. Because each container is filled one at a time, there is less likelihood for contamination.
COMPONENTER® Linear Design with Mobile Scale
In cases where many components are automatically processed, the COMPONENTOR® linear design with mobile scale is ideal. This configuration features an infinite number of surge bins, each of which has its own discharge and dosing unit. The trolley unit includes its own scale which provides reliable measurement that ensures accurate dosing of each ingredient.
COMPONENTER® Linear Design with Mobile Container
When contamination-free solutions are of the utmost importance in a recipe, the COMPONENTOR® linear design with mobile container can prove particularly useful. Individual batches are automatically weighed into a single container, with the AZO BATCHTAINER® sitting atop the scale for controlled dosing of the ingredients. Raw materials do not come into contact with one another and a special seal controls fugitive dust. This design is ideal for pharmaceutical and fine chemical applications.
COMPONENTER® Indexing Mode
In contrast to a linear configuration, the COMPONENTOR® indexing mode places each batch container into a coded scale where it is weighed and moved along an indexing belt. This increase's reliability of the production process, while making contamination impossible. The COMPONENTOR® indexing mode is useful for high-batch frequency production processes, with a lot of ingredients and recipes — in particular, ones that call for colorings, additives and highly active ingredients.
COMPONENTER® Circular Design
The COMPONENTOR® circular design offers a cost-effective solution for high volume batches with a limited number of ingredients that need to be weighed. Taking up little floor space, this system is outfitted with surge bins arranged in a circle above the collection vessel into which the ingredients are reliably transferred. With each ingredient dosed individually, several mixing lines can be fed from a single componenter.
Stop By and See Us At IBIE 2022
We've seen the impact our COMPONENTOR® line has made in the food industry — and we are eager to help more industry professionals see what's possible with this equipment. If you're attending IBIE 2022, we encourage you to stop by booth #1511 and learn more about our solutions!
"We welcome your visit to our booth and look forward to not only discussing how the COMPONENTER® may work for your application. With our operating unit, you can also visualize how the internal workings do the function of the operator and understand how this can facilitate efficiencies in your plant." - Kevin Pecha, Key Accounts - Food, AZO Inc.


Related Blog Posts
In the realm of safety glass manufacturing, precision is not just a goal; it's an absolute necessity. An AZO customer, Glass Film
Finally a great month of economic news where the markets have rebounded, while the fed has efficiently fought inflation. What once looked