Stop by Booth #SU-8133!
AZO is thrilled to be attending Pack Expo again this year. We'll be answering questions about our complete system and equipment solutions for a variety of industries, including packaging, processing, and ingredient handling. Stop by booth #SU-8133 to see the Single Bucket Componenter in action!
Click here to schedule a time to meet with us at the show.
---
What you can expect to see from AZO at the show:
AZO will be showing the COMPONENTER® batching equipment, which provides you with a well-designed system to automate dosing and batching.
The AZO COMPONENTER®: Precision for Minor and Micro Ingredients
The AZO COMPONENTER® is a pivotal component in the world of ingredient automation, ensuring precision in the weighing and dosing of both minor and micro ingredients. Whether you produce food products, pharmaceuticals, chemicals, or plastics, this innovative system offers a wide range of configurations to meet your specific automation needs.
Accurate Weighing for Minor and Micro Ingredients
One of the key features of the AZO COMPONENTER® is its ability to handle minor- and micro-ingredient automation with exceptional accuracy. In industries where even a slight deviation in ingredient proportions can have a significant impact on product quality and cost, having a reliable and precise system is crucial.
The AZO COMPONENTER® employs advanced weighing technology that ensures each minor and micro ingredient is dispensed with pinpoint accuracy. This level of precision not only enhances the quality of your end product but also minimizes waste, saving you time and resources. You can catch it in action in the AZO booth!
Flexibility for Your Evolving Needs
We understand that your production requirements may change over time. That's why the AZO COMPONENTER® is designed with flexibility in mind. You can easily expand your system to accommodate new ingredients or increased production demands without major disruptions to your production line. This scalability ensures that your automation investment continues to provide value as your business grows.
Streamlined Automation for Multiple Industries
Whether you're in the food, pharmaceutical, chemical, or plastic manufacturing industry, the AZO COMPONENTER® offers versatile solutions tailored to your specific needs. It simplifies the complex task of ingredient handling, making it rapid, straightforward, and efficient.
In summary, the AZO COMPONENTER® is the ideal solution for precise weighing and dosing of minor and micro ingredients in various industries. If you're seeking to enhance the automation and accuracy of your production processes, visit booth #SU-8133 at Pack Expo to see the AZO COMPONENTER® in action and learn more about how it can transform your operations. With AZO, precision and flexibility come together to elevate your production to new heights.
Feel free to schedule a meeting with us at the show to discuss. We hope to see you there!
Explore our line of AZO COMPONENTER® automated batching equipment here.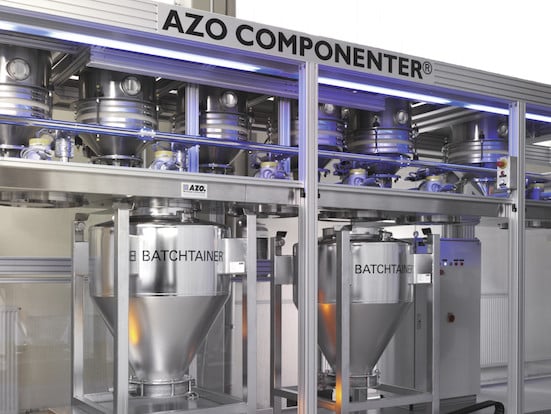 ---
Feel free to schedule a meeting with us at the show to discuss. We hope to see you there!