Out of the oven and into the socially distanced frying pan: the Delta variant of the COVID-19 virus has proved that consumers and manufacturers alike are not out of the woods quite yet. Various stories from the bulk material handling world echoed that sentiment in August 2021.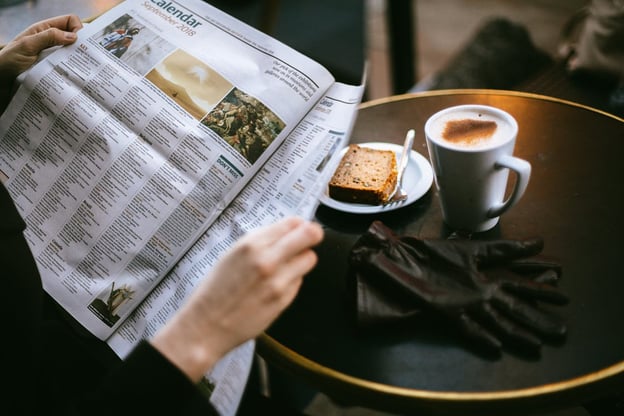 Here are 13 news stories to fill manufacturers in on what happened in bulk material handling last month:
Tyson announces vaccination mandate, companies likely to follow
Aug 3
Oct. 1 marks the day that Tyson office employees will be required to be vaccinated for the COVID-19 virus before entry, and Nov. 1 marks when all other workers are required to be vaccinated. This was reported according to a statement the company released last month and still, a union representing around 24,000 Tyson meatpacking workers argued that the mandate should have been negotiated.
Though Powder & Bulk Solids reported that it is unclear whether areas other than meat processing companies in food and beverage manufacturing will make similar moves as Tyson, the publication expects top meat processing companies to follow suit.
Pumpkin Spice Ramen Noodle Flavor to Hit Shelves in October
Aug 4
The shelves of Walmart are soon to be graced by an incredibly unique combination, according to Food Manufacturing. Inventor of Cup Noodles, Nissin Foods, announced last month that a new limited-edition pumpkin spice flavor of their ramen cups will be distributed nationwide this October. Vice president of marketing at Nissin Foods USA, Jaclyn Park was quoted saying "product innovation is at the core of the Cup Noodles brand." In its 50th year as a company, Park said that Cup Noodles is "excited" to launch its "first-ever limited-edition flavor that is sure to cause a stir."
Food imports viewed by China as dangerous despite FDA stance
Aug 5
As increased COVID-19 cases in Asia caused a slew of global supply chain shortages, China "reemphasized" a claim that the virus could be spread through frozen food imports. Though the FDA and USDA stated last February that there is no credible evidence for food or food packaging to be a source of viral transmission, China is now tightening inspections and going so far as to seize Canadian-originated meats (on one occasion) from a restaurant in Nantong city that lacked proof of disinfection or acid testing.
The World Health Organization, as well as the U.S. Centers for Disease Control and Prevention, have also stated that the chance of getting COVID-19 from frozen foods is "very low."
Powder & Bulk Solids podcast discusses Cannabinoid powders
Aug 6
As both THC and CBD-infused products are "having a moment in the sun" (edibles reportedly became the most popular product category among all age groups in major markets in 2020), Powder & Bulk Solids' podcast "Particulate Matters" dove into the subject last month with a developer and manufacturer of cannabinoid powders. Managing editor John Forrester chatted with Keith Woelfel, director of research and development for Caliper Foods, and the two discussed the barriers of an emerging industry adopting new ingredients.
"A lot of first-round CBD products may not have worked as well as consumers expected," He said. "Consumers might be using CBD for pain, relaxation -- even to a certain extent -- anxiety. If you're not getting the benefit immediately, you're not going to repeat-purchase.
Overall food and beverage project announcements rebound
Aug 10
More than 70 new food & beverage projects were announced in July, according to Food Manufacturing and SalesLeads (a service that tracks investment project activity for facilities in various industries). This is a "considerable" improvement from June as well as May and April, which the publication describes as "lackluster months of activity." Red Bull of North America takes the title for the largest tracked food & beverage July project announcement as they plan to spend $740 million building a 2 million-square-foot processing and distribution facility in Concord, NC.
Alcoholic Mountain Dew announced in partnership with 'Twisted Tea' manufacturer
Aug. 11
By early 2022 consumers can expect "Hard Mtn Dew," an alcoholic version of the PepsiCo product "Mountain Dew." The announcement for this new take on the soda included revealing that The Boston Beer Co. will be developing and producing the new product. Boston Beer may be best known for its Samuel Adams brand, Boston Beer Co., but also produces Truly Hard Seltzer, Twisted Tea and Angry Orchard brands to boot.
"Hard Mtn Dew" is reported to arrive in three different flavors, contain zero sugar and will contain an ABV of 5%. In other beverage-related news, Molson Coors announced last month that they are discontinuing 11 different economy brands. Out with the old -- in with the new.
Food Manufacturing op-ed references survey detailing industry feelings on post-pandemic upgrades
Aug 13
Food Manufacturing made the case last month that outdated tools for process monitoring and quality control are much too common on plant floors these days. They added, in the op-ed by Eric Weisbrod, that a recent survey of manufacturers found 52% of global responders are at least "exploring" or even adopting new technologies to enhance performance following the onset of COVID-19.
Topics outlined by the publication that assists in building a digital foundation included automated data collection and analysis, ensuring workflows, cloud capability and data visualization. Unsure about how to upgrade? AZO has discussed the topic in consumable formats on the blog portion of our site. Unsure about when to upgrade? We've covered that too.
Op-ed urges food manufacturers to introduce 'Triple Bottom Line'
Aug 16
In a month where the effects of climate change set records and the United Nations officially labeled (with a report) the state of global warming as a "red alert for humanity," Food Manufacturing urged manufacturers to incorporate the "Triple Bottom Line" into their processes. This idea, a "measure of commitment to environmental responsibility" was pioneered in the early 1990s. In the piece, David Magnani explains how in today's world supply chain resourcing and production can, in fact, go hand in hand with environmental stewardship.
Climate-related California drought causing almond shortages
Aug 17
California's $6 billion almond industry is taking a heavy toll thanks to water shortages. The owner of a California-based company that processes about 60 million pounds of almonds annually was quoted by Food Processing stating that about a third of California's orchards are currently planted in areas with "unreliable water supplies" and that soon the world is going to "see less almonds." California is responsible for roughly 80% of almond production, according to the piece.
Forbes op-ed supports automation as way of improving QC
Aug 18
Eliminating risks while protecting continued business are two pertinent advantages that implementing automation can provide for a manufacturer, and an op-ed from Forbes zeroed in on the steps following these toward improving quality operations. The chief technology officer and co-founder of Plex Systems mentioned technological topics like artificial intelligence and "the cloud to implement into systems as a way to prepare a manufacturer for not just increased efficiency, but market competitiveness."
Op-ed states robotics 'propel' operations in a supply chain
Aug 23
In the same vein as the above-mentioned Forbes piece, another op-ed (this time focused on robotic integration) made the case that robots give a manufacturer an extraordinary competitive edge. Senior Director of Marketing for RIOS Kelly Kamlager stated in the piece that she has "seen many operational challenges first-hand in many manufacturing and supply chain facilities" and that ultimately, robotic solutions will be "one of the primary equipment integrations which will propel customers' operations into the future." AZO has echoed the sentiment that robotics should be implemented more in bulk material handling.
Tech giants pledge assistance in ransomware defense as attacks continue
Aug 18, Aug 28
In the same month that AZO published an article seeking to help manufacturers navigate the threat of ransomware, tech companies like Google and Apple claimed they would invest billions to help secure the software supply chain and upgrade defenses. As the threat continues (and two plants in Maine experienced minor threats), the food and beverage industry "removes its oven mitts" in preparation for future issues.
11 prominent product recalls occurred in August
August 2021 saw a plethora of product recalls in the bulk material handling world. News that the CDC was investigating both a cake mix recall from July and a shrimp recall as well as a few think-pieces about how to avoid such a fate as an ingredient handler has prompted us to forego our usual re-cap of facility fires and explosions to focus on highlighting just how many consumer products were recalled last month. Once again, automation provides a pertinent benefit in regards to increasing accuracy and reducing such recall events. When a recall does happen, systems with track and trace abilities can save on the costs of scrapping large amounts of material. Here are 11 product recalls just from August 2021:
Handling materials is our world at AZO. If you have any other questions or concerns regarding material handling, feel free to contact our sales team. Recently we've posted a variety of content related to keeping in line with critical dust hazard management practices. We have more than seven decades of experience in the ingredient automation world and have added tons of other topics also covered at length on our blog.